Upcoming Projects
Checkout some of the upcoming productions from Rock Your Socks Productions and RYS Entertainment! (More updates will be added to this page as they happen so keep checking back!)

Click on posters or hyperlinked title for more info!
Released
1) It's About Time is the talk show web series bringing the world together one interview at a time. The series launched on YouTube April 5, 2012 in which host Erik A. Williams interviews Kevin Strange and D.F. Noble of Strangehouse Books. Upcoming interviews include amazing talent like Andrew Roth (The Man in the Maze), Liana Werner-Gray (Alive New York), and Teal Sherer (The Guild, My Gimpy Life).
YouTube: http://www.youtube.com/ ItsAboutTimeSeries
Facebook: http://www.facebook.com/ ItsAboutTimeTV
Twitter: http://www.twitter.com/ ItsAboutTimeTV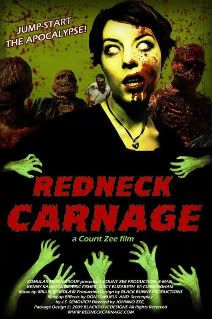 2) Johnny B Gone (drama with sci-fi elements)
Logan and Johnny's relationship has weathered many storms but now lightning has struck in the form of a spirited young woman who works at the local sandwich shop. It just goes to show what the human soul is willing to risk in pursuit of lasting love. The film is written and directed by Trevor Juenger (Hermetica) and produced by Trevor Juenger and myself.

3) Redneck Carnage (This film made its world premiere on May 25-26, 2009 to three sold-out screenings at the Moxie Theatre in Springfield, MO (a first for the venue) is currently making the festival rounds, and is now available on Amazon.com! )
Redneck Carnage is a story about a group of misfits who must join forces for a struggle for survival while seeking to find the cause of a disastrous series of events. In the process they strive to get word to the only entities who can save them and a small town from total annihilation

4) Scalpel (short) ( currently making the festival rounds and is being distributed through IndieFlix )
A young man wakes from a horrible accident to find he is in no hospital!

Post Production
None at current time
Currently in Production
None at current time


Pre-Production
None at current time

In development
1) Flushed (optioned property)
Two young urbanites have fallen in love in the real world but unknowingly tear each other apart as sworn enemies in the veiled realm of the online. The screenplay was found through InkTip and was written by Brandt Kubo. It will be produced by myself and Josh Hodgins of JH Productions. I will be starring with Joe Hammerstone and Josh Hodgins attached as well.

2) Brain Stew (horror comedy) (scripting)
A young woman's psychic abilities unwittingly unleashes her dead family back to life as flesh-eating zombies who seek to devour all the people that have wronged her. Tagline: "A mind is a terrible thing to baste." The current cast attached includes Ashley Bank, Kathleen Kinmont, Lexi Young, David Wayne Black, Ani Waggoner, and Joe Hammerstone.

3) Zero Main Street (dramedy) (optioned property)
A pizza delivery man is taken on a spiritual journey and finds out life and death comes one slice at a time. The film is based on the novel by author and Gameheads star, David Wayne Black.